Free Phonics Reading Lessons taken from the book Read Instantly. Children and adults learn the first two of the long vowels rules and will read and spell
156

words

instantly!
Read Instantly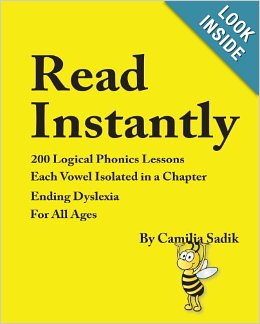 These free phonics reading lessons are selected sample lessons, taken from the book Read Instantly, which is to teach phonics for reading and for spelling to all ages.
Learning Phonics: The 26 English letters produces over 90 sounds we call phonics, which are spelled in over 180 ways that we call spelling patterns. The 200 lessons in Read Instantly are the foundation for learning phonics and for learning the rules that govern the spelling of phonics in words.
Amazon $52 — or — Our Price $45 


Special Offer! Get 100 Spelling Rules + 3 other book Free! Save $219

Free Phonics Reading Lessons
Two Free Lessons: These Free Phonics Reading Lessons teach the reading and spelling of 156 words instantly. They are an introduction to long vowels and the first two long vowels rules. 
Logical Learning Style: The book Read Instantly begins with the letters that sound like their letter name. The rest of the letters that do not sound like their letter name are placed in a queue awaiting their turn to be introduced logically and one at a time. To start teach words and avoid sentences like "My cat is cute." because people with a logical learning style expect to see that as "Mi kat iz qut."
Calculated Steps: The reason this teaching method works every time is that every step is calculated, and no phonic is thrown randomly at people to read or spell. Most people are logical learners and they question every inconsistency they see in the way English words are spelled. We need to be very sensitive to the needs of logical learner who cannot memorize without logic.
Follow the Order of the Lessons Presented in the Book: Hence, teachers or parents need to follow the calculated steps presented throughout Read Instantly. To start, avoid teaching words that contain hard C, hard G, Q or Qu, S that sounds like a Z as in is, double letters as in add, the Y as a vowel as in my, consonant blends as in strong, digraphs of H as in fish, two vowels in a word as in boat, any long multi-syllabic words, any words with suffixes as in musician, any words with prefixes as in unhappy, and simply follow the order of the lessons presented in Read Instantly.
10 Phonics and Spelling Books or 

E-books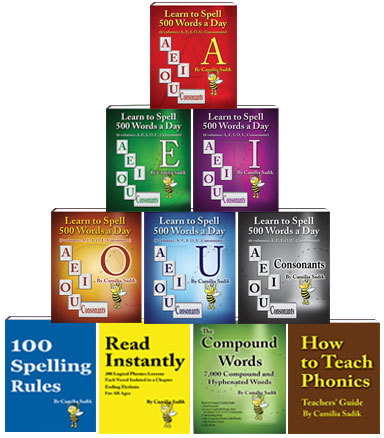 1. Read Instantly (200 Phonics Lessons) Amazon $52 — or — Our Price $45 — or — Special Offer
2. Learn to Spell 500 Words a Day (6 volumes) Amazon $52 each — or — Our Price $45 — or — Special Offer
3. 100 Spelling Rules (Exclusive Rules) Amazon $98 — or — Our Price $78 — or — Special Offer
4. The Compound Words (7,000 Words) Amazon $52 — or — Our Price $45 — or — Special Offer
5. How to Teach Phonics – Teachers' Guide Amazon $27 — or — Our Price$20 — or — Special Offer
All 10 books Amazon $541 — or — Our Price $312
See the 10 →Books
10 e-books are available for all e-readers and free apps
See the e-books on→ Kindle Store
Here's what our satisfied clients say:
"I purchased this book to use with a brain injured client because he has to learn to spell and read all over again. He was confused by the many exceptions to the seemingly innumerable spelling rules/exceptions in our English language. Although the title says Read Instantly, the explanations of the sounds in English mesh naturally with many spelling rules. The order of letters, words and phonic sounds taught builds slowly but steadily to give mastery at every level. Some of the instructions to the teacher are repetitive and not all that helpful, but an experienced teacher will not be hindered by this.

In fact, my client began reading the teacher's directions on his own and practically taught himself the content. Try this with anyone who has even the slightest difficulty with reading and spelling. Home school moms and dads, this would work great with children from beginner to intermediate readers who are having difficulty." Carol Stevens, Reading Tutor Amazon verified purchase